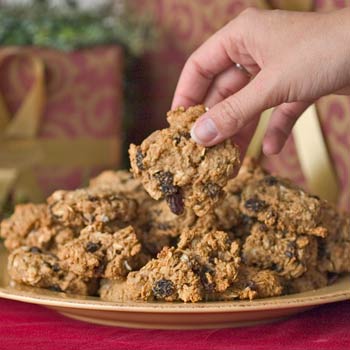 INGREDIENTS ~
3 cup organic rolled oats
1 ½ cup whole wheat pastry flour
1 tsp baking soda
1 tsp cinnamon
10 tbsp sweet potato, baked, flesh only
6 tbsp Selina Naturally® Organic Coconut Oil
¾ cup agave nectar, honey or maple syrup
2 eggs
2 tsp vanilla extract
1 cup organic raisins
½ cup organic pecans, optional
---
STEPS ~
Preheat your oven to 350 degrees.
Combine in a bowl and whisk together: organic rolled oats, whole wheat pastry flour, baking soda, and cinnamon.
Measure the following ingredients, keeping them separate: sweet potato, organic coconut oil, agave nectar, eggs, vanilla extract, organic raisins and organic pecans (optional).
Mix sweet potato and coconut oil in a medium sized bowl with an electric mixer.
When consistency appears similar to creamed butter, add agave nectar and mix again.
Add eggs and vanilla extract.
Mix with mixer. Pour in the flour-oat mix all at once, and mix with mixer or by hand until just combined.
Scoop onto a parchment lined cookie sheet by the teaspoon or tablespoon, depending on your preference for large or small cookies.
Bake in a 350 degree oven for 15 to 20 minutes for large cookies, 10 to 15 minutes for smaller cookies.
The cookies are done when the middles are firm.

These not-too-sweet oatmeal raisin cookies are a perfect afternoon snack for children, providing plenty of nourishment without any white sugar, made with organic ingredients. Testing with the neighborhood children revealed that these cookies were a big hit!

~ Makes 20 cookies.


---
Recipe created by Sabrina Marie Thomas.