Selina Delangre, CEO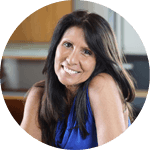 Selina Delangre proudly continues the extraordinary legacy of Jacques Delangre, in her positon as the CEO of Celtic Ocean International, Inc., which is the parent company of Selina Naturally® and the Celtic Sea Salt® Brand.
At an early age, Selina acquired Jacques and Yvette Delangre's love of healthy living with natural sea salt as a vital part of it, and she has been a student of health and wellbeing her entire adult life.
A spokeswoman for properly harvested sea salt
Selina is an enthusiastic spokeswoman about the critical importance of properly harvested sea salt, and she personally inspects every location from which Celtic Sea Salt® is harvested. These artisanal harvesting methods maintain the integrity of the essential minerals in the salt, which are vital to optimal health and superior taste.
How healthy living helped Selina
Selina herself struggled with migraine headaches for years. Thankfully, when she discovered a healthy, natural way of living, her headaches decreased. At the age of 20, Selina was blessed with a special-needs son, who has also provided the inspiration for her to research solutions for wellbeing. Selina's research expanded her knowledge of alternative approaches to solutions for optimal health. The knowledge she has gained is implemented in her product selection process. By building relationships with leaders in the natural healing industry, she has been at the forefront of understanding proper nutrition, and she passes her state-of-the-art understanding to her customers by making the finest nutritional products available here in the Selina Naturally Store.
Decades of research
Today, she has spent decades researching for solutions for proper daily nutrition and ways to obtain them.
Friendships with pioneers in healthy eating
During her years in the natural products industry, she has become friends and done business with some of the pioneers who began the revolution of healthy eating. Selina is informed by her distinguished circle of influencers. As a result, you can trust that she offers a range of sound solutions that support daily nutritional requirements and knows the reasons they're valid.
Her own influential newsletter
Selina's newsletter, "A Grain of Salt," was in print for over 15 years and attracted thousands of members to her "Grain & Salt Society." It was filled with leading-edge information about "mind, body, and spirit.
A responsive resource for many people
Selina has a passion for being a responsive resource to many people. She shares true empathy with her members and other customers. Her empathy grows out of her own understanding of what it's like to seek solutions, especially when you yourself are not functioning at your optimal potential because of your health or other circumstances. We know the story behind all the products we offer, and we love sharing each story with you.
Her personal mission statement
Selina's personal mission statement is "To see the fullest potential in everyone she meets and to reflect back her appreciation of each person."
Nurturing healthy startups
Selina offers opportunities for startup businesses that have promising natural products and need a way to present them to customers. She knows the challenges of starting up a business amid the multitude of products people can choose from.
Her commitment to helping startups is why she started the "Your Opinion Matters" page on our website. On the page, we offer our members the opportunity to help us pick products for our webstore. We realize that, even though we have all of our 33 employees taste and test the products presented on the page for review, we also learn from the opinions of our members.
As a bonus for your interest in future products we may offer, when you go to the page, you can purchase items before they make it into our product offerings for half price. We only ask that you provide your opinion about the product or products you purchase with a simple vote of thumbs up or thumbs down.
An interview of Selina with Dorit of Serenity Spaces (click to read the interview with Selina and Dorit)
SELINA HARVESTING SEA SALT
During a personal inspection tour, owner and CEO Selina DeLangre hand-harvests Celtic Sea Salt® the way artisans having been doing it for hundreds of years. She believes that such traditional practices are her way of honoring the founders and the Celtic Sea Salt® Brand.
Selina Naturally® built its reputation primarily through a grassroots marketing strategy, focused on building relationships with customers and respected influencers, including doctors, nutritionists, chefs and food authors. As a result, many customers arrive through a recommendation for better health, culinary purposes, or their own desire for a healthy diet and lifestyle.
Selina's lifestyle is centered around optimal wellbeing, and she dedicates herself to sharing her vision with as many people as she can. She hopes to empower others to make mindful choices that support a healthy body, mind, spirit, and planet.
Her vision extends to her employees. She has created an environment that fosters loyalty, innovation and creativity.
Selina was nominated for the WNC Equal Employment Award, and Selina Naturally® is recognized as one of the top small businesses in North Carolina .
Connect with us