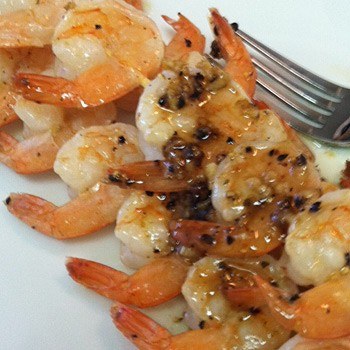 INGREDIENTS ~
1 pound peeled shrimp with tails left on
4 wooden skewers
3 limes juiced
1 garlic clove minced
½ tsp fresh cracked black pepper
1 tbsp Selina Naturally® Organic Coconut Oil, melted
1 tbsp Selina Naturally® Organic Coconut Oil, for cooking
---
STEPS ~
Mix lime juice, Smoked Celtic Sea Salt®, pepper, garlic, melted coconut oil in a small bowl and marinate shrimp for 30 minutes to 1 hour.
Thread shrimp onto skewers.
Heat a large flat pan on medium to high heat.
Add coconut oil and allow to heat.
Once pan is hot gently place skewers onto the pan, then pour marinade over the shrimp in the pan.
Cook shrimp for 1 to 2 minutes on each side and turn the skewers over with tongs.
Enjoy hot!

~ Makes 4 skewers.


---
Recipe created by Carla Delangre.