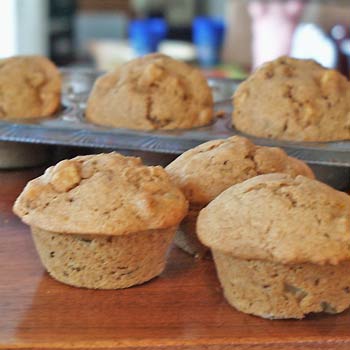 INGREDIENTS ~

Stir together:
1 ¾ cup whole wheat pastry flour
2 tsp baking powder
¼ tsp baking soda
½ tsp cinnamon
¼ tsp nutmeg


Wisk together wet ingredients:
1 egg
½ cup soy milk or cow's milk
⅓ cup Selina Naturally® Organic Coconut Oil
½ cup Organic maple syrup
1 tsp orange zest, chopped
1 tsp vanilla extract


Chop fruit:
---
STEPS ~
Preheat your oven to 350 degrees.
Make a well in the center of the dry ingredients and pour in the wet ingredients, and the chopped fruit and nuts.
Mix together quickly and briefly, do not over mix.
Spoon into oiled or papered muffin tins, filling each cup until it is just full and bake in 350 degree oven for about 17 minutes, until centers hold up beneath a light touch.
Let cool at least 10 minutes before eating.

These fruit muffins have a nice maple flavor. You may use the fruits of your choice, apples and bananas are only my suggestions. What else works? Berries of all types, pears, peaches...you name it. Also, when no fruit is on hand, you may use dried fruits which have been "plumped" in hot water. You can also increase the amount of fruit to 2 cups, instead of 1 cup, for extra fruity muffins.

~ Makes 8 servings.


---
Recipe created by Sabrina Marie Thomas