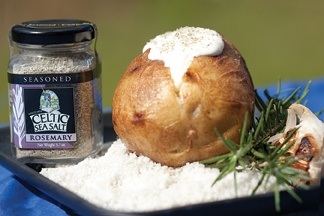 INGREDIENTS ~
---
STEPS ~
Preheat oven to 475 degrees. Pour Celtic Sea Salt® into a 9" baking dish.
Nestle the potatoes into salt, wider side down.
Cut off the top of the garlic bulb and place into the salt by the potatoes, cut side up.
Cover dish tightly with foil.
Bake for 1¼ hours until garlic is roasted.
Remove from oven, set garlic aside to cool.
Drizzle olive oil over potatoes and place uncovered dish back into the oven for 15 minutes.
Once garlic has cooled, pinch the clove ends so they pop out into a small mixing bowl.
Mix together garlic, butter and Rosemary Celtic Sea Salt®.
Once potatoes are finished baking, serve hot with butter mixture - and enjoy!

**You can reuse the salt in the baking dish from this recipe for anything you'd like to add a buttery roasted salt flavor.

~ Makes about 2 servings.

This method of baking creates tender potatoes that the whole family will enjoy!


---
Recipe created by Carla Delangre.