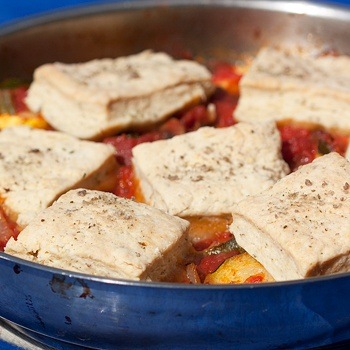 INGREDIENTS (Ratatouille) ~
1 organic onion, chopped
5 organic garlic cloves, minced
3 organic Summer squash or zucchini, chopped
1 jar organic peeled plum tomatoes with basil
1-2 cups French green beans
1 tbsp Selina Naturally® Organic Coconut Oil
1 tsp chili flakes
1 cup organic button mushrooms sliced thick
1 tsp Organic Celery Seasoned Celtic Sea Salt®, or more to taste
1 tsp Organic Rosemary Seasoned Celtic Sea Salt®, or more to taste
2 tsp fresh cracked black pepper
1 organic lemon, juiced
¼ cup dry red table wine
---
STEPS (Ratatouille) ~
In a large oven-safe pan, heat coconut oil on medium.
Add onions & sauté for 5 minutes.
Add the Celery Celtic Sea Salt®, pepper, & chili flakes.
Sauté for another 5 minutes.
Add minced garlic & lemon juice and allow to simmer up to 2 minutes until the garlic & onions brown slightly.
Add red wine, then mushrooms and sauté for 5 more minutes.
Next, add green beans, squash and tomatoes, stir and simmer covered for 10 minutes.
Preheat oven to 375° and position rack in center.
---
---
INGREDIENTS (Biscuits) ~


1 ⅓ cups all purpose flour
1 ¾ baking powder
½ tsp Rosemary Celtic Sea Salt®
1 tsp dried oregano
6 tbsp cold unsalted butter, cut into 5 pieces
½ tsp finely grated fresh lemon zest
7 tbsp heavy cream
---
STEPS (Biscuits) ~


In a food processor, combine the flour, baking powder, & Rosemary Celtic Sea Salt®. Pulse briefly to blend.
Add butter, and lemon zest and pulse briefly to combine.
Pour cream over mixture and pulse until crumbs are moist, about 8 pulses.
Flour the counter and knead dough until formed.
Flatten dough to 1" thick and cut into 7 squares.
Store the dough in the refrigerator until ready to bake.