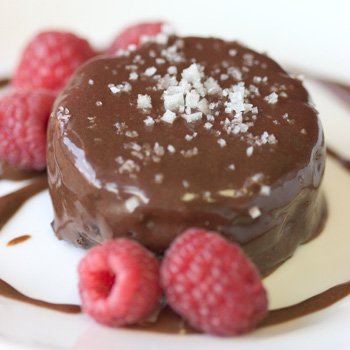 INGREDIENTS ~
Ganache:
---
STEPS ~

Ganache:
Heat cream in a small saucepan and pour over all other ingredients.
Mix until smooth, and then set aside.
Preheat oven to 325 degrees F.
Use 2 tbsp of softened butter to grease 6 (1/2 cup) ramekins.
Sprinkle 1 tsp raw sugar into each ramekin and shake to coat bottom and sides of each evenly.
Place the ramekins in a large baking dish and set aside.
Bring a medium saucepan of water to a simmer.
Combine the cacao, ghee, and honey in a metal bowl, set over simmering water or in the top of a double boiler.
Melt the ingredients together and stir to combine until smooth, about 5 minutes, set aside.
Meanwhile combine the eggs, vanilla, and Flower of the Ocean® in a large bowl and beat with an electric mixer until frothy and doubled in volume, for about 5-6 minutes.
Fold the eggs into the chocolate mixture in 1/3 portions at time with a rubber spatula to keep the air bubbles from the eggs.
Fold in until fully combined.
Pour the batter into the ramekins till half full.
Place in preheated oven on the bottom shelf.
Bake for 20 minutes or until the edges are starting to set.
Allow to cool for a few minutes then, using a butter knife, gently loosen the cakes from the edges of the ramekin.
Invert each cake onto a plate and invert the cakes again so the top is upward.
Cool to room temperature, then top with Ganache and allow to cool for 5-6 minutes.
Sprinkle tops of each cake with Flower of the Ocean® and then allow to set in a cool place.
Cover and refrigerate for a few hours or overnight...or enjoy warm from the oven.


~ Makes about 6 small cakes.


---
Recipe created by Carla Delangre.