Chocolate Almond Bites with Pink Celtic Sea Salt
These low glycemic treats are great for any time of the day. Packed with protein and minerals each round dream is rich and flavorful. With a some simple steps you can make a few dozen to have on the go for the week.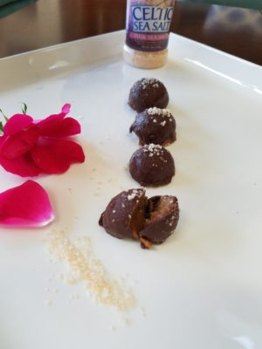 INGREDIENTS ~
1 Jar or 1 pound Selina Naturally Creamy Almond Butter
1 box or 5 ounces Crunchy Toasted Pecan Cookies or something similar, I use Simple Mills since they use low glycemic sweeteners such as coconut sugar. This will add a nice texture to the bites.
1 Tablespoon Organic Ghee
10 ounces Organic Chocolate Chips. I use Davis Chocolate since they use coconut sugar which keeps this snack low glycemic
1-2 Tablespoons Pink Celtic Sea Salt® for garnish and a touch of gourmet salty contrast to the sweetness of the chocolate
Makes 2 dozen Bites
---
STEPS ~
In a food processor blend the box of cookies until it becomes the texture of coarse sand. Next add the jar of almond butter and ghee to the food processor and pulse until fully combined. Scoop the mixture into a bowl and allow to sit in the freezer for 2-3 hours until it becomes more solid to work with.
Once the almond mixture is very firm you can use a small ice cream scooper to help with symmetry and consistency to make little almond butter balls. Place each one about ½ inch apart on a parchment paper lined baking sheet. *Be sure you have plenty of room in your freezer for the next part. Once all the almond butter balls are created then pop the baking sheet in the freezer for at least 2-3 hours so they can then be coated with warm chocolate.
Once you know the the almond butter balls are solid and frozen you can begin to melt your chocolate. *Do not take them out of the freezer until you are ready with your melted chocolate. Using a glass bowl that is slightly larger than your saucepan you can make a double boiler. Be sure steam cannot go around the bowl and into the chocolate or else your chocolate will not look as nice and change consistency.
On medium heat place the saucepan with 2 cups of water on the stove and cover with the empty clean and dry glass or metal bowl. Be sure not to touch the bowl with bare hands, it will get hot. Add the chocolate chips and gently stir to help the melting along. Once melted, turn off the stove, take out the almond butter balls of the freezer and begin coating each ball with chocolate.
Using two forks will help the excess chocolate drip off to help conserve the chocolate.
Lay the coated bites on the baking sheet and immediately sprinkle with Pink Celtic Sea Salt® while the chocolate is still shiny to ensure it will stick properly. Repeat these steps until all bites are coated and sprinkled with the pink salt. Work quickly so the almond butter balls don't melt too fast and become harder to work with.
Once finished place the baking sheet back into the freezer for another 30 minutes to an hour. Then you can store them in a container in the freezer for easy grabbing on the go!
This natural pink sea salt is not only attractive and appetizing with its delicate color, it also supplies beneficial minerals in its natural form such as Calcium, Magnesium, Potassium, and an alkaline pH, all of which are essential to health. It is naturally harvested from Spain.
Enjoy!
---
Recipe created by Carla Delangre.