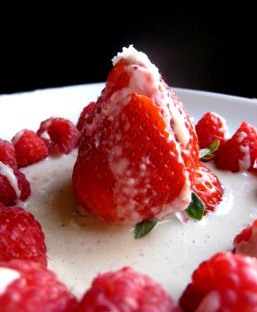 INGREDIENTS ~
1 cup raw cashews
½ cup agave nectar, honey or maple syrup
1 or 2 brazil nuts (optional)
¾ cup filtered water
1 pinch ground vanilla bean
1 pinch Makai Pure® Deep Sea Salt
3 - 4 cups fresh, clean and air-dried berries
---
STEPS ~
In a blender or food processor, add the cashews, brazil nuts and water and blend until smooth for around 3 minutes.
Add the agave/honey/maple syrup, vanilla and Makai Pure® Deep Sea Salt.
Blend until all combined and one color.
In a serving bowl place the washed and dried berries and pour the cashew cream on top, serve immediately.
Enjoy!

~ Makes 4 servings.


---
Recipe created by Carla Delangre.