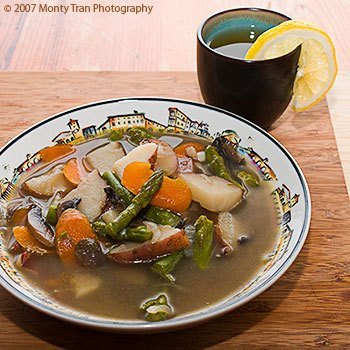 INGREDIENTS ~
1 cow knuckle
1 gallon filtered water
1 tbsp apple cider vinegar
1 tbsp Celtic Sea Salt®
3 Carrots, chopped
2 onions, chopped
4 garlic cloves, minced
4 celery stocks, chopped
3 cups green beans, chopped
1 bunch thyme, fresh
1 bunch oregano, fresh
1 bunch sage, fresh
1 tbsp chili powder
½ tbsp cumin ground
1 cup lemon juice
2 chicken breast, with bone
3 medium sized golden beets, chopped
3 cups filtered water
1 tsp fresh cracked black pepper
1 tsp cayenne pepper
---
STEPS ~
In a very large pot bring all ingredients to a simmer then turn down to lowest setting and cover with lid.
Heat/simmer for 12-24 hours.
Every 4 hours skim off the dark substances on the surface of the water, they may leave a bitter flavor.
Once the broth is done cooking, strain the water into a glass container and refrigerate over night.
The fat will form to the surface of the bone broth, which is now in a gelatin state.
Skim off the fat and store for later use or discard if you wish to not use it.
Pour all ingredients (except lemon juice), including the bone broth in to the extra large pot.
Bring to a simmer, covered. Cook for 20-30 minutes until chicken is cooked through and vegetables are soft.
Debone chicken and shred meat.
Put chicken meat back into pot, add lemon juice and stir.
Serve hot with toast or garnish with arugula sprouts.
Add Celtic Sea Salt® to taste.

Benefits of Bone Broth "…Voit also found that gelatin improved digestion because of its ability to normalize cases of both hydrochloric acid deficiencies and excesses, and was said to belong in the class of "peptogenic" substances that favor the flow of gastric juices, thus promoting digestion." -- Kaayla T. Daniel, PhD, CCN