Barley, Spinach and Walnut Stuffed Peppers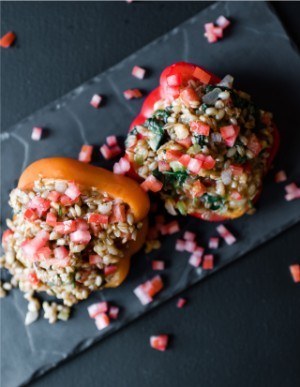 INGREDIENTS ~
---
STEPS ~
Place barley, 4 cups water and Light Grey Celtic Sea Salt® in a small saucepan.
Bring to boil; lower to a low simmer. Cover and cook 45 minutes or until tender but still has a slight chew. Check occasionally and add more water if necessary. If using pearled barley, adjust cooking time per package directions.
Remove from heat; let stand 10 minutes. Drain and set aside.
Meanwhile slice each pepper in half lengthwise; remove seeds.
Place peppers on a plate, cut sides down, and microwave on high 4 to 7 minutes or just starting to get tender but still somewhat firm. (Time will vary depending on thickness of pepper flesh.)
Heat oven to 375˚ F.
Heat oil in a medium skillet; add carrots, onions, and celery. Stirring occasionally, sauté over low heat until just tender, about 10 minutes.
Add spinach; stirring, sauté 1 minute until spinach wilts. Remove from heat.
Stir in cheese, tomatoes, walnuts, Bouquet™ Herbes De Provence Celtic Sea Salt®, Organic Rosemary Seasoned Celtic Sea Salt® Blend and cooked barley; mix well.
Evenly spoon mixture into peppers, pressing in firmly. Place peppers in baking dish. Place 2 tablespoons water in bottom of dish. Cover with lid or tightly with foil. Bake 35 minutes or until hot.

~ Makes 4 servings.


---
Recipe created by Mary Hawkes from Arizona.