Zucchini Carpaccio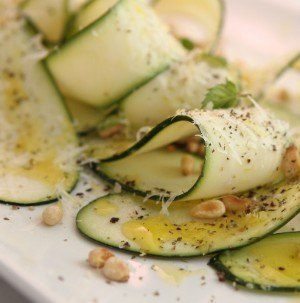 INGREDIENTS ~
4 small zucchini, sliced paper thin on diagonal*
2 teaspoons lemon juice
1/2 teaspoon Bouquet™ Herbes De Provence Celtic Sea Salt®
1/8 teaspoon pepper, fresh ground is best
2 tablespoons olive oil, extra virgin or other fragrant, raw oil
1/3 cup mint, fresh loosely packed, sliced very thin (change out fresh mint with tarragon, or chives)
2 tablespoons pine nuts raw or toasted
1 ounce Parmesan cheese, shaved with vegetable peeler
Zucchini flowers (optional) thinly sliced as garnish
---
STEPS ~
Slice the squash into uniformly thin ovals (by slant slicing) and arrange on four plates overlapping each slice slightly; like fish scales.
Make the dressing: whisk together lemon juice, seasoned salt, and pepper. Add in oil and whisk to emulsify. Drizzle over the squash.
Slice mint and sprinkle over slices along with pine nuts.
Use a vegetable peeler and shave cheese over each plate.
Serve immediately or prepare ahead to step 4 and refrigerate. Shave cheese just before serving.
* A mandoline makes fine work of thinly slicing squash. It is a worthy tool in a gardener's kitchen.

~ Makes 4 servings.


---
Recipe created by Bill Hettig from Florida.