Wild Thing Quiche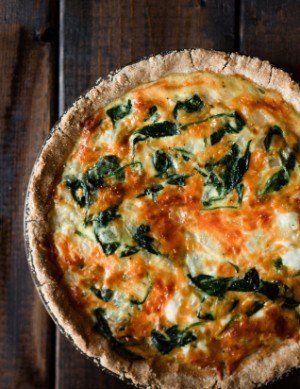 INGREDIENTS FOR CRUST ~
1/3 cup coconut oil
2 tablespoons water
3/4 cups brown rice flour
3/4 cup cornmeal
1 tablespoon sage
1/2 teaspoon Fine Ground Celtic Sea Salt®
1/4 teaspoon pepper
INGREDIENTS FOR FILLING
1 medium onion, chopped
1 tablespoon oil (olive or coconut)
1 cup grated cheese
2 1/2 cups washed and chopped dandelion greens, nettles, lambs quarter (or could use spinach)
3 eggs
1/4 cup milk (dairy, rice, soy, almond)
---
STEPS ~
Prepare the crust: mix liquids together, then add the dry ingredients. Press into a 10 inch pie pan. Bake 5 minutes in a preheated 425°F oven.
Lightly sauté the onion in oil and place in pre-baked pie shell. Add the grated cheese and the sautéed greens.
In a blender whiz together the eggs, and milk, salt and pepper.
Pour over the greens in the pie shell.
Bake at 350°F for 35 minutes. Let stand a few minutes before serving.

~ Makes 6 servings.


---
Recipe created by Brigitte Mars from Colorado.