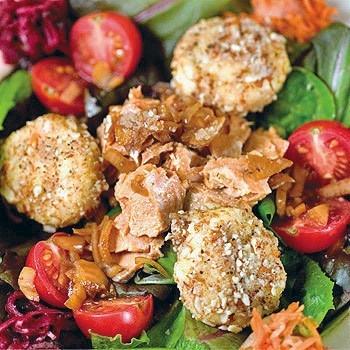 INGREDIENTS ~

Salmon & Goat Cheese:
1 package SeaBear® Wild Sockeye Salmon
½ pound fresh Spring salad
1 medium tomato sliced
1 lime
2 - 5 oz logs soft fresh goat cheese, each cut into 4 round slices
1 egg
1 tbsp water
½ cup unbleached all purpose flour
2 tbsp organic ghee or Selina Naturally® Organic Coconut Oil
1 cup Selina Naturally® Organic Roasted Almonds, coarsely ground

Dressing:
---
STEPS ~
Preheat oven to 350 degrees.
Pat each goat cheese slice to 1/2-inch thickness.
Whisk egg and water in small bowl.
Place flour in another small bowl.
Place almonds in shallow dish.
Roll goat cheese slices in flour, then dip into egg mixture, then roll in almonds to coat, pressing gently to adhere.
Place cheese in glass baking dish; drizzle lightly with butter.
Sprinkle with Celtic Sea Salt® and pepper.
Bake until almonds are lightly browned, about 10 minutes.
Squeeze fresh lime juice over the salmon.
Toss salad greens with dressing.
Assemble greens with salmon, top with goat cheese medallion and enjoy!
---
Recipe created by Carla Delangre.