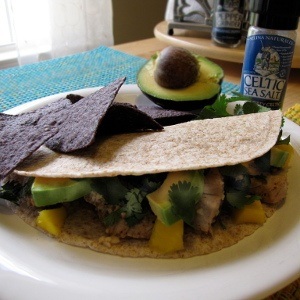 INGREDIENTS ~
½ lb sushi grade tuna
3 limes juiced
1 tbsp Selina Naturally® Organic Coconut Oil
fresh cracked black pepper, to taste
Celtic Sea Salt® to taste
2 garlic cloves minced
2 tsp chili powder
2 tsp ground cumin
½ Mango diced
1 cup chopped cilantro
1 lime, for garnish
1 avocado
6 soft or hard corn taco shells, heat optional
---
STEPS ~
Slice tuna into 1 inch thick slices.
Mix lime juice, melted coconut oil, pepper, Celtic Sea Salt®, garlic, chili powder, cumin in a bowl and toss with tuna.
Marinate tuna for 20 minutes.
Heat large sauté pan on medium to high heat.
Add tuna once pan is hot and cook each slice on each side for 1-2 minutes.
Remove from heat.
Assemble taco shells, with tuna, mango, cilantro, avocado and lime juice.
Enjoy hot!

~ Makes 6 tacos.


---
Recipe created by Carla Delangre.