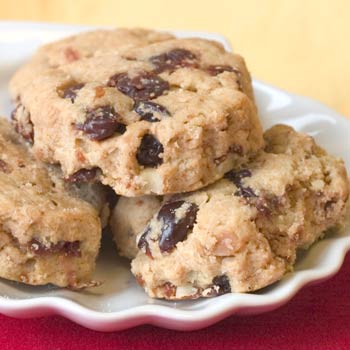 INGREDIENTS ~
1 cup dried cherries
2 ½ cups whole wheat pastry flour
1 tbsp baking powder
¾ cup ghee* or unsalted butter
15 - 30 drops Stevia**, depending on sweetness desired
½ cup Selina Naturally® Organic Roasted Almonds, chopped
1 egg, beaten
4 tbsp soy milk or cow milk
---
STEPS ~
Preheat oven to 400 degrees.
Boil one cup of water and pour over cherries. Set aside.
In a medium sized bowl, whisk together the flour, baking powder and Celtic Sea Salt®.
Using a pastry cutter, cut in the ghee* or butter until the mixture resembles coarse meal.
Add almonds.
Drain cherries and add to the mixture. Mix well.
Combine the egg, milk, and stevia**, then add.
Stir until dough begins to hold together.
Turn out onto lightly floured surface and knead 6-8 times.
Roll dough to a thickness of 1 inch.
Cut into shapes with a 2-inch cookie or biscuit cutter.
Place the scones on the prepared baking sheet and bake for 15 minutes or until just beginning to brown.
Transfer to a wire rack to cool.

*Ghee is wonderful to bake with but is semi-solid at room temperature. In order to make scones, refrigerate the ¾ cup ghee for 4 hours before making this recipe, or use cold butter instead.

**Fifteen drops of stevia produces a very lightly sweet scone; add up to 45 drops for sweeter scones.

~ Makes 12 servings.


---
Recipe created by Sabrina Marie Thomas