Thai Noodle Salad with Chili-Lime Sea-Salted Peanuts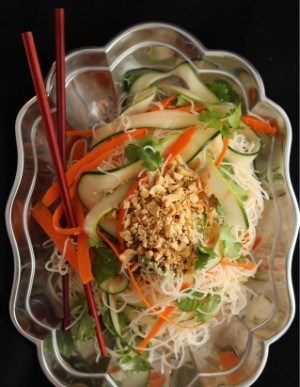 INGREDIENTS ~
Zest of 2 limes
1 tablespoon Light Grey Celtic Sea Salt®
3/4 teaspoon red pepper flakes
1/3 cup unsalted, roasted peanuts
12 ounces thin rice noodles
4 tablespoons lime juice
4 tablespoons Thai sweet chili sauce
2 tablespoons fish sauce
1 tablespoon sesame oil
2 garlic cloves, minced
1 cucumber, partially peeled and seeded
2 carrots, shredded
1/4 cup chopped fresh cilantro
2 tablespoons chopped fresh mint
---
STEPS ~
Heat oven to 200°F. Spread lime zest on baking pan; heat for about 15 minutes or until dried. Put zest, salt, red pepper flakes and the peanuts in a spice grinder. Pulse a few times to combine the ingredients.
Cover rice noodles with boiling water; let soak for 10-15 minutes or until tender. In a large bowl, whisk together the lime juice, Thai sweet chili sauce, fish sauce, sesame oil and garlic. Drain the noodles; add them to the sauce and toss well. Slice cucumber in half lengthwise and cut into thin slices. Toss the cucumber, carrots, cilantro and mint with the noodles.
Divide the noodles into 4 bowls. Sprinkle each bowl generously with the chili-lime sea-salted peanuts.

~ Makes 4 servings.


---
Recipe created by Suzanne Banfield from New Jersey.