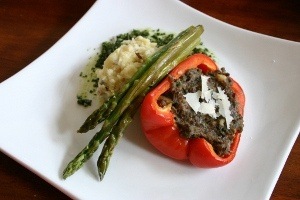 INGREDIENTS ~
1 cup organic free range ground beef (Hickory Nut Gap)
1 organic free range chicken liver (optional)
1 tsp organic dried oregano
1 organic sweet pepper (any color)
1 tbsp organic baby portabello mushroom
1 organic garlic clove crushed and peeled
1 tbsp fresh organic parsley
½ cup organic fresh basil leaves
1 tbsp fresh organic thyme
2 organic scallions chopped
1 tbsp organic pine nuts (toasted)
1 tbsp olive oil, or try Vigoa Cuisine - Garlic & Herb Splash Olive Oil
1 tbsp organic ketchup
1 tsp organic dried chili flakes
1 tbsp fresh grated parmesan cheese
---
STEPS ~
Preheat oven to 350 degrees.
Spread olive oil in a small glass baking dish to coat.
In a food processor combine beef, liver, oregano, chili flakes, mushrooms, garlic, parsley, basil, thyme, scallions, ketchup, Celtic Sea Salt®, black pepper, pine nuts and pine nut oil.
Pulse until fully combined.
Slice sweet pepper in half and remove stem and seeds.
Fill peppers with meat mixture and top with parmesan cheese.
Place the peppers with the meat facing up in the baking dish and bake uncovered for 30-45 minutes until the meat is cooked through.
Enjoy hot over mashed potatoes and a vegetable of your choice.

~ Makes 2 servings.


---
Recipe created by Carla Delangre.