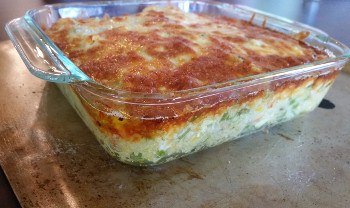 INGREDIENTS (Spring Millet "Meatloaf") ~
1 ½ cups Millet, soaked over night and rinsed
3 cups filtered water or vegetable stock
1 bay leaf
1 kombu leaf (optional)
¼ cup chopped celery
¼ cup chopped carrot
¼ cup chopped yellow onion
1 cup chopped small, asparagus
½ cup chopped small, zucchini
¼ cup chopped small, red bell pepper
½ cup thawed frozen peas
¼ cup thawed frozen corn
1 teaspoon Celtic Sea Salt® Garlic Salt
1 teaspoon Celtic Sea Salt® Herbes De Provence
1 teaspoon pepper
2 eggs
2 cups grated fresh cheddar raw cheese
---
STEPS (Spring Millet "Meatloaf") ~
Bring stock or water to a boil in a medium to large pot with a lid.
Add the teaspoons of Celtic Sea Salt® Garlic Salt and Celtic Sea Salt® Herbes De Provence, kombu and bay leaf.
Then add the millet and a lower the heat and allow to simmer for a few minutes with the lid on.
Next add the celery, carrots and onion, stir and allow to cook fully with the lid on for about 20 minutes until millet is done and the water is absorbed.
Preheat oven to 400 degrees F.
Next chop small pieces of asparagus, zucchini, red bell pepper and set aside in a large mixing bowl. Then add thawed peas and corn.
Once the millet is cooked and cooled add it to the vegetable mixture in the large mixing bowl.
Whisk the eggs in a separate bowl and pour it over the millet.
Mix together all the ingredients, including a small handful of the grated cheese.
Save the other part of the cheese to top the loaf.
In loaf pan or deep glass dish coat it with coconut oil.
Next add the mixture to the pan or dish and even it out to form a loaf shape.
Then top with the cheese and bake for 20-30 minutes until cooked through.
---
---
INGREDIENTS (Sprouted Walnut Pesto) ~


1 cup sprouted then lightly toasted organic walnuts
1 cup parmesan cheese
3 cups fresh spinach
3 garlic cloves
½ cup olive oil
1 teaspoon Celtic Sea Salt®
1 teaspoon black pepper
---
STEPS (Sprouted Walnut Pesto) ~


Blend in a food processor until smooth.
Serve cold or room temperature as a topping for the loaf.


This recipe is full of great nutrition and wonderful colors to help you feel the season of spring on your plate! Walnuts are a great source of omega 3 EFA as well as great for helping your body handle stress. Millet is a wonderful grain that is very alkalinizing and naturally gluten free! Enjoy all the goodies in this dish. I'm sure your whole family will love it.
---
Recipe created by Carla Delangre.