Salt and Pepper Crusted Churrasco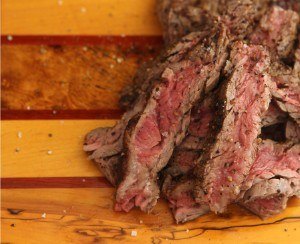 INGREDIENTS ~
1 pound inside skirt steak (churrasco)
1/2 teaspoon Makai Pure® Deep Sea Salt
1/2 teaspoon freshly ground Selina Naturally® Organic Black Peppercorns
1/4 teaspoon cayenne pepper
1/4 teaspoon ground coriander
1/4 teaspoon cumin
2 tablespoons olive oil
---
STEPS ~
Oil and pre-heat grillpan or outdoor grill to medium high.
Mix cayenne, coriander, and cumin, sprinkle mixture on both sides of steak. Sprinkle Makai Pure® Deep Sea Salt and grind Selina Naturally® Organic Black Peppercorns over both sides of steak and rub gently.
Place steak on hot grill for 5 min. Turn steaks and cook for another 5 min.

~ Makes 4 servings.


---
Recipe created by Leslie Ponce from Florida.