Salmon and Watercress Scallion Caper Vinaigrette Topping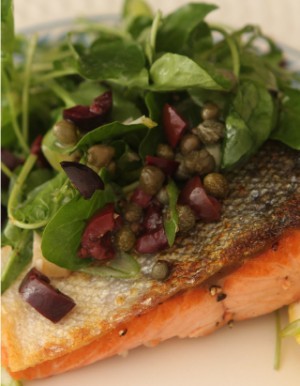 INGREDIENTS ~
1 pound salmon, 1 1/2-2 inches thick in centermost part, skin on
2 tablespoons capers, drained
2 tablespoons deli salad bar garlic pieces, chopped
3 tablespoons black olives, chopped
4 green onions, sliced with green tops
1 cup watercress
4 tablespoons extra virgin olive oil, divided
1 large lemon, divided
1 teaspoon coarse ground pepper, divided
1/4 teaspoon Flower of the Ocean® for garnish
---
STEPS ~
In a small bowl, combine the capers, garlic, olives, onions, water cress, two tablespoons of olive oil, one-half lemon juice, and 1/2 teaspoon pepper. Toss and blend.
Prepare the salmon with 2 tablespoons of olive oil rubbed into the meat. Sprinkle on 1/2 teaspoon pepper.
Use a well-seasoned cast iron skillet. Heat on medium high heat then coat lightly with cooking spray. Put skin-side up first in the hot skillet. Cover with a lid. Pan sear for 3-3 1/2 minutes. Flip, cover and pan sear another about 3 minutes.
Remove from heat. Keep covered. Prepare 'topping'.
Sprinkle salmon with salt and serve with 'topping' and more lemon.
How to arrange the plate: with just a touch of your fork, you'll be eating delicate flaky tender translucent bites of slightly crusty pan seared salmon that's masterfully finished with a sprinkling of salt. Topping the salmon or maybe next to it is a briny and unexpected burst of capers, olives, and watercress all pulled together with a simple olive oil and lemon vinaigrette. The simplicity of preparation defies the finished dish. But, that's what this dish's goodliness is all about~the limelight on the healthy vibrant salmon.

~ Makes 2 servings.


---
Recipe created by Dr. Alice D'Antoni Phillips from Massachusetts.