Saffron Orzo Salad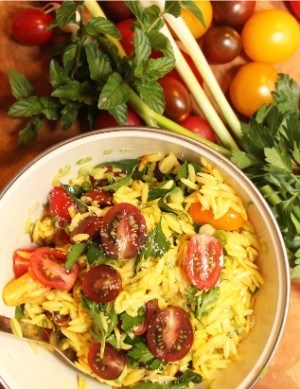 INGREDIENTS ~
2 cups orzo (rice-looking pasta)
A pinch of saffron
1/4 cup olive oil or A/N
4 green onions, finely chopped
4 cups chicken or vegetable stock
1 cup cherry tomatoes, halved
1/2 cup fresh parsley, coarsely chopped
1/4 cup fresh mint coarsely chopped
Juice of 1 lemon
A pinch of Fine Ground Celtic Sea Salt®
---
STEPS ~
Cook the orzo in the stock with the saffron as directed on the packet.
Strain and add olive oil and let cool.
Prepare the rest of the ingredients and toss it all together, add salt and pepper to taste and let rest at room temperature for a while to let the flavors combine. This is an excellent summer side dish.
Orzo can be substituted by quinoa, freekeh, wheat berries or any other whole grains.

~ Makes 4 servings.


---
Recipe created by Daniel Edlund.