Rustic Rosemary Veggie Tart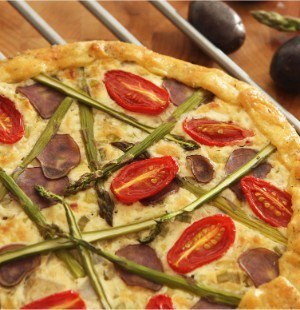 INGREDIENTS FOR CRUST ~
2 cups flour
1 cup cornmeal
1 teaspoon Organic Rosemary Seasoned Celtic Sea Salt® Blend
8 ounces Irish Butter (very cold) cut into diced pieces
4-6 tablespoons ice water
INGREDIENTS FOR FILLING
8 ounces cream cheese, softened
1 cup grated Parmesan cheese
1 cup of chopped green onions, about 6-8 full stalks
1/2 cup chopped marinated artichoke hearts
INGREDIENTS FOR TOPPING
6-8 small heirloom tomatoes, sliced
1-2 small purple potatoes, thinly sliced
8 asparagus stalks, cut in half
1 egg for egg wash
About a teaspoon of Organic Rosemary Seasoned Celtic Sea Salt® Blend
---
STEPS ~
Add the flour, cornmeal and salt to a food processor and give a quick pulse to combine. Add the butter and pulse 10-13 times. Slowly add the ice water until a ball forms. Divide the ball in two pieces (each piece of dough should weigh about 13.5 ounces) Shape each ball into a 5" disc and refrigerate for at least 2 hours or up to 2 days. For any leftover dough, you can freeze it and use it later. Freezes well for up to 4 months.
Preheat oven to 375°F.
When ready to bake remove the dough from refrigerator and let sit for 20 minutes. While the dough is resting make the filling. Mix the cream cheese, Parmesan cheese, chopped green onions and chopped marinated artichoke hearts.
Roll out each dough piece into an 11" disc. Spread half of the filling over the dough leaving a 1" border. Arrange the toppings in a pretty pattern then fold the edges up and over the filling. Brush the edges with the egg wash and sprinkle with the salt blend. Repeat with the 2nd piece of dough.
Bake on a parchment lined baking sheet for 35-45 minutes or until the edges are golden brown. Serve warm or at room temperature. Enjoy!

~ Makes 2 servings.


---
Recipe created by Amanda Meiers.