Rosemary Encrusted White Bean and Jalapeño Stuffed Mushrooms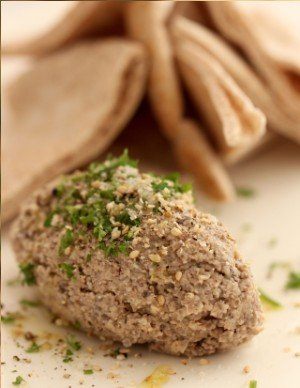 INGREDIENTS ~
3 tablespoons olive oil (1 for sauté, 1 for bean mixture and 1 for drizzle over the dish to finish)
1/2 tablespoon butter
8-10 whole button mushrooms (keep caps whole), stems removed and chopped
2 tablespoons green onion, finely chopped
1 tablespoon jalapeńo pepper, seeded and finely chopped (be sure to wear gloves when handling hot peppers if you're sensitive to them)
1/2 teaspoon minced garlic
1 cup cooked Great Northern beans, mashed
2 teaspoons Organic Rosemary Seasoned Celtic Sea Salt® Blend, divided
2 teaspoons freshly cracked Selina Naturally® Organic Peppercorns, divided
1/2 cup mozzarella cheese, grated
4 ounces breadcrumbs made from crustless french bread
1 tablespoon fresh rosemary sprigs, stem removed and finely chopped
1 egg, slightly beaten
---
STEPS ~
Heat a skillet over a medium-high heat. Add olive oil and butter. Sauté the mushrooms stems, onion, jalapeño pepper and garlic for 3 minutes, be sure not to burn. Turn off heat and set aside.
Mix half of the salt blend and pepper into mashed beans. Stir in mozzarella cheese and set aside.
Fold in sautéed onion, 1 tablespoon olive oil, jalapeño and garlic mixture into the mashed beans until fully combined.
In a shallow dish mix bread crumbs, remaining other half of Organic Rosemary Seasoned Celtic Sea Salt® Blend, half of Selina Naturally® Organic Black Peppercorns and fresh chopped rosemary.
Heat oven to 350°F. Line a baking sheet with parchment paper and coat with olive oil.
Carefully spoon vegetable bean mixture into the mushroom caps. Dip and roll each mushroom in beaten egg followed by coating them in bread crumbs. Gently press crumbs into the mushroom to set them in place. Place each cap on parchment paper facing the stuffed part up an inch apart. Bake for 40 minutes at 350°F until golden brown. Serve warm or room temperature with remaining olive oil drizzled over the tops.

~ Makes 4 servings.


---
Recipe created by Claudia McCarty from Texas