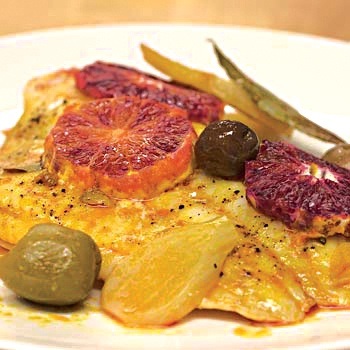 INGREDIENTS ~
7-8 tbsp Red Palm Oil
2 fennel bulbs, sliced paper thin
6 garlic cloves, thinly sliced
¼ cup dry white wine
½ cup fresh orange juice
6 sea bass or halibut fillets, each 7 oz
2 blood oranges, peeled, cut into ⅛" slices
1 cup green or black olives
6 bay leaves
---
STEPS ~
Preheat oven to 400°.
In large oval roasting pan over medium-high heat, warm 3 tbsp oil.
Add fennel and garlic; cook stirring occasionally, until softened, about 5 minutes.
Add wine; boil 1 minute.
Add orange juice and simmer 2 minutes.
Season with Celtic Sea Salt® and pepper, remove from heat.
Season fish with salt and pepper; place on fennel mixture.
Drizzle fish with 3 tbsp oil.
Place blood oranges, olives and bay leaves on and around fish.
Roast until fish is opaque throughout...15-25 minutes, depending on thickness.
Discard bay leaves.
Spoon some of the liquid over fish; drizzle with oil.

~ Makes 6-8 servings.


---
Recipe created by Carla Delangre.