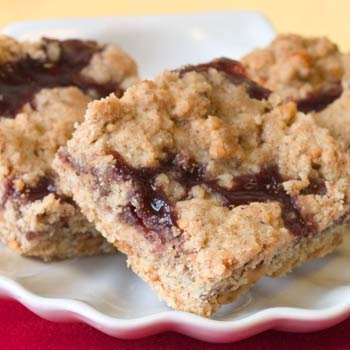 INGREDIENTS ~
---
STEPS ~
Butter a 10" x 16" baking sheet.
With a hand mixer, cream ghee and coconut oil.
Add xylitol and whip until fluffy.
Add eggs and continue to beat then add flour and chopped hazelnuts.
Beat briefly, until flour is all combined and a thick dough forms.
Use 2/3rds of the dough as a crust for the raspberry bars and press into the bottom of the pan.
Over the top, spread the raspberry fruit spread.
Finally, crumble the remaining dough over the top.
Bake 35-40 minutes until crust is lightly browned and fruit spread is bubbly.
Allow to cool in pan, then slice.
Store in an airtight container.
Makes one 10" x 16" pan.


Raspberry fruit spread combines with crunchy hazelnuts to make a delicious dessert. To use ghee and coconut oil to bake with, first place in the refrigerator for 3 hours to cool.


---
Recipe created by Sabrina Marie Thomas.