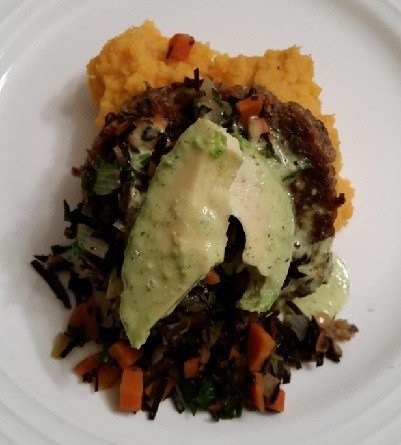 INGREDIENTS ~

Quinoa Patty:
1 cup dried sprouted organic quinoa
1 cup dried sprouted organic lentils
4 cups water
1 sheet kombu
1 bay leaf
½ onion
½ cup chopped parsley
½ cup shredded parmesan cheese
1 teaspoon Celtic Sea Salt ® Garlic Salt
1 teaspoon fresh cracked black pepper
1 egg
Sauce:
3 garlic cloves
½ cup olive oil
½ cup lemon juice
1 teaspoon Celtic Sea Salt ®
1 teaspoon black pepper
2 teaspoons sesame seed butter (tahini)
1 pinch of dill dried or fresh
1 splash of brown rice vinegar
Seaweed garnish:
2 cups dried Arame seaweed, soaked in water for 30 minutes then rinsed thoroughly
3 carrots cubed
½ yellow onion cubed
2 garlic cloves chopped
¼ cup lemon juice
4 tablespoons tamari
1 tablespoon rice vinegar
1 tablespoon ume vinegar
1 tablespoon coconut oil
¼ cup chopped parsley
---
STEPS ~
Quinoa Patty:

Cook quinoa and lentils in a pot or pressure cooker. Pressure cooker tends to work best since you want them to become mushy.
Add lentils, quinoa, water, ½ onion, bay leaf and kombu sheet to pot and allow to come to a boil, then cover and simmer for 20-30 minutes, until water is absorbed and grains are mushy.
Once the grains are cooked fully, spoon them into a large bowl and allow to cool. Meanwhile you can prepare other parts of the meal.
Once the quinoa and lentils have cooled, removed the bay leaf and onion. The kombu will be soft enough to just mix into the patties.
Add the parsley, parmesan cheese, garlic salt, pepper and egg and mix until everything is combined.
Then heat a skillet with some olive oil on medium to high heat.
Take a small handful of the mixture and form it into a patty.
Place the patty into the skillet and repeat this step until you have a few in the pan, be sure not to overcrowd the pan. Allow to cook for about 2-3 minutes on each side until lightly brown and fully cooked through. You can also smash the patties a little to flatten them.
Sauce:
Blend all ingredients on high in a blender until smooth.
Seaweed garnish:
Heat coconut oil in a saute pan and then add onions and garlic to heated pan.
Allow to saute for a few minutes then add carrots.
Chop up the arame once it is rinsed so it's in little pieces, then add it to the pan.
Saute for a few minutes until carrots soften and then add the lemon juice, tamari, rice vinegar, and ume vinegar.
Once everything has cooked for about 10 more minutes, turn off the heat and stir in the fresh parsley.
This dish is not only delicious and highly nutritious, but it makes for a beautiful presentation. You can add fresh avocado on top for a garnish and pop of green color.
Enjoy hot!
~ Makes 4 servings
~ Preparation time: 45 minutes
~ Cook time: 20 minutes
---
Recipe created by Carla Delangre.