Pumpkin Soup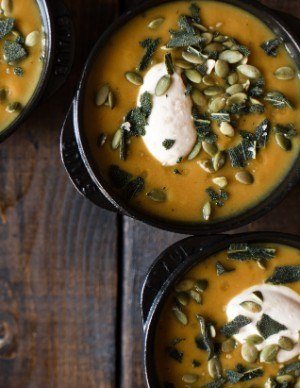 INGREDIENTS ~
4 cups of pumpkin
6 cups of vegetable broth
2 cups of water
3 tablespoons of olive oil
1 medium yellow onion
4 cloves of garlic
2 teaspoons of yellow curry powder
Light Grey Celtic Sea Salt®
Black pepper to taste
1 bunch of sage leaves
1/2 cup of pumpkin seeds
Cashew cream (see below)
1 cup raw, unsalted cashews
1 cup of water
---
STEPS ~
Chop onions and garlic.
Sauté olive oil, onion, garlic and curry powder in a pot.
Mix in pumpkin, water and vegetable broth.
Add a dash of salt and black pepper.
Bring to boil and simmer for 30 minutes.
Sauté the sage leaves in olive oil until brown, set aside until cool.
For the cashew cream: In a small bowl combine cashews and water. Set aside.
Allow to soak for at least 1 hour.
Mix water and cashews in a food processor, scrapping sides periodically until creamy Garnish soup with cashew cream, pumpkin seeds and crumble sage leaves.

~ Makes 6 servings.


---
Recipe created by Donna Haybarger from Florida.