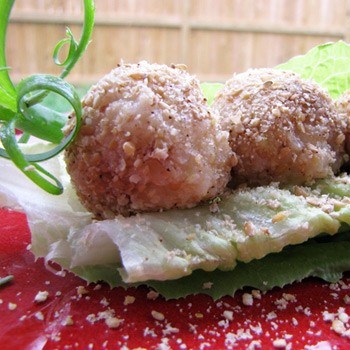 INGREDIENTS ~
2 - 3 cups cooked organic brown rice or millet
2 tbsp organic wheat-free tamari
1 organic scallion minced
4 organic umeboshi's (salted plums) pitted and smashed
1 tsp organic rice vinegar
1 tbsp ground Organic Toasted Sesame Salt (gomasio) in a small bowl
1 cup cold water
---
STEPS ~
With clean hands or a spoon mix together umeboshi, vinegar, and scallions then incorporate the umeboshi mixture to the rice.
Roll ¼ cup of rice into a ball.
Dip fingers in water and roll the rice ball around hands to coat with tamari.
Lightly roll or dust the rice bowl in the ground Toasted Sesame Salt.
Garnish with nori and greens and serve warm or room tempurature.
Sprinkle with our new Celtic Sea Salt® Gourmet Seaweed Seasoning!

~ Makes 4 servings.


---
Recipe created by Carla Delangre