Celtic Sea Salt's New Look!
Celebrating 40 years as a family brand with a new face lift!
Asheville, North Carolina – October, 2016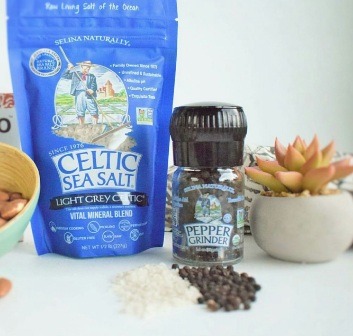 Celtic Sea Salt® has been the leading sea salt brand for decades now. Specializing in sustainable healthy raw sea salts from around the world, this company has been the pioneers since the 70's and is still leading the sea salt trends to health and wellbeing.
"Being in this business as a family owned brand for 40 years has allowed us to find more ways than one to celebrate our anniversary." says Selina Delangre, owner of the Celtic Sea Salt® brand. This was a big year for the family business with their new branded cookbook being written and now a bright new facelift of their packaging. They also have some new products brewing behind the scenes to help meet the demands of their customers.
Many people recognize the Celtic Sea Salt® brand from a distance in the store or on the table due to their vibrant blue lids, now the whole product line of the original salts showcase that same ocean blue hue. It's still the same sea salts as packaged in 1976 just with a more modern and noticeable look!
To learn more about NEW Celtic Sea Salt® products and updates contact Sales Department at 1-800-TOP SALT or email, sales@selinanaturally.com, or visit the website at www.celticseasalt.com.