Minestrone Soup With Lamb Sausage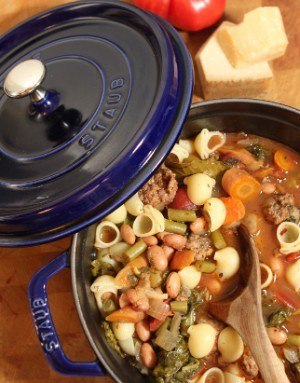 INGREDIENTS ~
1/2 teaspoon olive oil
1/2 large onion, chopped
1/2 pound sweet Italian lamb sausage
2 carrots, cut in julienne strips
2 large cloves garlic, minced
8 cups lamb broth (or chicken or beef stock)
28-ounce can tomatoes, undrained and broken up
2 bay leaves
4 teaspoons Italian seasoning chopped fresh oregano, marjoram, parsley, thyme, and rosemary to taste
2 teaspoons Light Grey Celtic Sea Salt®
4 ounces vermicelli or angel hair pasta, broken in short lengths
1/4 cup frozen lima beans (optional)
8 ounces frozen (or chopped fresh) green beans
Handful of fresh spinach, chopped (optional)
Light Grey Celtic Sea Salt® and pepper to taste
Parmesan cheese for garnish
---
STEPS ~
Sauté onion in olive oil in large soup pan or Dutch oven over medium heat.
Add sausage, crumbling it with a wooden spoon.
Add carrots, garlic, stock, and tomatoes.
Bring to boil and skim off foam.
Add seasonings, reduce heat and simmer about 45 minutes.
Add lima beans if desired, green beans, and pasta.
Cook about 10 minutes until pasta is tender.
Add fresh spinach just before removing from heat.
Garnish with Parmesan cheese after serving, if desired.

~ Makes 6 servings.


---
Recipe created by Susan Manata.