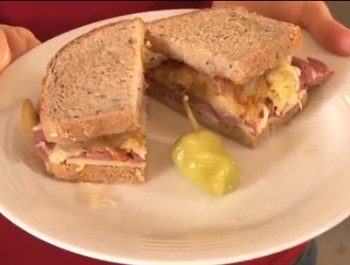 INGREDIENTS ~
Organic, grass-fed chicken livers (soaked overnight in water with sea-salt, if desired)
Grass-fed, pasture-raised corned beef
Ghee (clarified butter)
¼ Onion, peeled and sliced
Horseradish
Organic Cayenne or Black Pepper
Swiss Cheese
Sauerkraut
Bread
---
STEPS ~
Heat pan and add ghee.
Caramelize the onion in the pan, adding a small amount of Celtic Sea Salt®.
Season onions to taste with cayenne or black pepper.
Push onions to one side of the pan and add the chicken livers.
Cook 3-4 minutes on each side.
Spread horseradish, if desired, onto a slice of bread before placing the cheese, onions, sauerkraut, and corned beef.
Lightly shred the chicken livers and spread onto the second slice of bread to complete your sandwich.

~ Makes 1-2 sandwiches.


---
Recipe created by Carla Delangre.