Light Grey Celtic® Chocolate Caramel Pecan Cups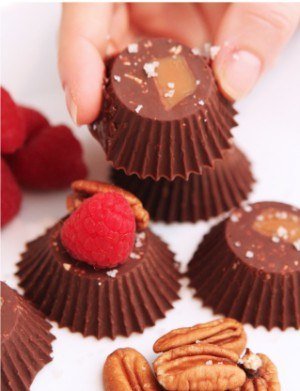 INGREDIENTS ~
1 teaspoon Light Grey Celtic Sea Salt®
3 caramel pieces, halved
6 pecan halves, chopped
1 1/2 cups dark or milk chocolate, melted
6 whole pecan halves
3 raspberries, halved
---
STEPS ~
Arrange mini cupcake liners on a tray.
On a small plate place the salt.
Place each caramel piece in the salt, pressing a few crystals on each piece.
Place each salted caramel in the cupcake liners that are 2 inches in diameter.
Sprinkle the pecan pieces on top.
To melt the chocolate, place chocolate pieces in a bowl over a pot of hot water and melt chocolate on a low heat setting, stirring gently.
Pour 1/4 cup of melted chocolate into each mini cup.
Let the chocolate cups set in the refrigerator. When set, add a whole pecan on top of each one and a raspberry piece.
Sprinkle a bit of salt on to each cup also.

~ Makes 6 servings.


---
Recipe created by Lily Erlic from British Columbia.