Kimchi (Korean Sauerkraut)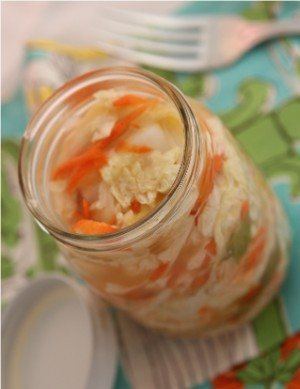 INGREDIENTS ~
1 head green or Napa cabbage, cored and shredded
1 bunch green onions, chopped (or chives)
1 cup grated carrots
1/2 cup grated daikon radish or red radish (optional)
3 cloves garlic, peeled and minced
1-2 tablespoons freshly grated ginger
1/2 teaspoon dried chile flakes or fresh poblano or jalapeńo for your level of heat preference
4 teaspoons Light Grey Celtic Sea Salt®
Filtered water
---
STEPS ~
Place vegetables, ginger, red chile flakes and salt in a bowl and mix with a wooden spoon to release juices.
Stuff into glass jars with plastic lids (not metal lids or lids with epoxy). The top of the vegetables should be 1 inch below top of jar.
Add water to bring liquid to top of cabbage. Cover tightly. Keep in a warm place for 1 to 2 days before putting in the refrigerator. Once you see some bubbles forming you know the fermentation has taken place and it's time to put into the refrigerator. With more time the Kimchi gets tastier.

~ Makes 8 servings.


---
Recipe created by Sally Fallon, author of Nourishing Traditions from Washington, DC.