Honey-Ginger Cake with Spiced Caramel Sauce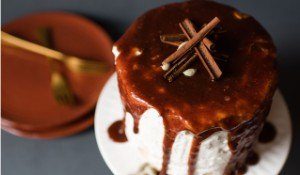 INGREDIENTS FOR FROSTING ~
16 ounces cream cheese, softened
16 ounces sour cream
2 cups powdered sugar
2 teaspoons vanilla extract
1 cup heavy cream
INGREDIENTS FOR SPICED CARAMEL SAUCE
1/2 cup sugar
2 tablespoons water
1 tablespoon lemon juice
1/2 cup heavy cream
2 tablespoons unsalted butter
1/2 teaspoon ground cinnamon
1/2 teaspoon ground nutmeg
1/4 teaspoon ground cloves
1/8 teaspoon ground cardamom
1/2 teaspoon Fine Ground Celtic Sea Salt®
1/2 teaspoon vanilla extract
INGREDIENTS FOR CAKE
4 ounces unsalted butter
1/2 cup honey
1/2 cup sugar
1 tablespoon peeled and grated fresh ginger
2 teaspoons ground ginger
1 1/2 teaspoons lemon zest
2 teaspoons orange zest
1 teaspoon Fine Ground Celtic Sea Salt®
3 large eggs
1 teaspoon baking soda
4 cups all-purpose flour
---
STEPS ~
THE FROSTING:
Beat together cream cheese, sour cream, powdered sugar and vanilla extract until creamy. Add heavy cream; beat until mixture is fluffy. Chill until ready to use.
THE CARAMEL SAUCE:
Combine sugar, water and lemon juice in a deep heavy-bottomed saucepan. Cook over medium-high heat until sugar is fully dissolved (do not stir). Reduce heat to low; continue cooking and swirling pan occasionally until sugar mixture turns into dark amber in color. Meanwhile, combine heavy cream, butter and spices in a small pan; bring to simmer over medium-high heat. Add hot heavy cream mixture, salt and vanilla extract to sugar mixture when it's ready. Cook two more minutes until caramel is smooth and bubbles disappear. Set aside at room temperature.
THE CAKE:
In a large sauce pan, combine butter, honey, sugar, gingers, lemon zest, orange zest and fine salt. Cook over medium-low heat until sugar is dissolved and then simmer for 5 minutes. Remove from heat; let cool until warm. Whisk together eggs and baking soda; gradually add to honey mixture while whisking constantly. Add flour to honey mixture; stir with spatula until
combined. Divide dough equally into nine portions. Preheat oven to 350°F. Line a large baking sheet with parchment paper; lightly grease work surface and rolling pin. Roll out dough portions into ⅛-inch thick rounds. Bake dough rounds, two at a time, for 5-6 minutes or until golden brown. Trim cake edges so they become perfectly round and have the same size (about 8-inch diameter). Process cake trimmings in a food processor until resemble cookie crumbs.
HOW TO ASSEMBLE:
Spread frosting in between, on top and sides of cake layers. Dust cake top and sides with cake trimming crumbs. Drizzle with caramel sauce. Cover and chill for at least 6 hours.

~ Makes 12 servings.


---
Recipe created by Sugiyarti Jorgenson from Alaska.