Healthy Zucchini Quesadillas (Vegetarian Recipe)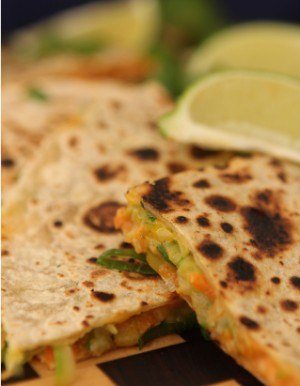 INGREDIENTS ~
2-3 small to medium zucchini, grated
1 medium carrot, grated
1 inch piece of ginger, grated
2 scallions, finely chopped
1 cup of shredded good quality cheese (use New Zealand Cheddar, goat cheese, or a non-dairy cheese)
16 ounces of cannellini beans, mashed
Fresh rosemary (can be substituted with dry if fresh not available)
Smoked cumin powder
Smoked paprika or cayenne pepper
Garlic powder
1 tablespoon lime juice
Fine Ground Celtic Sea Salt®
Olive oil
Tortillas (I used organic/non-GMO corn tortillas but you can use brown rice or any flour tortillas of your choice)
---
STEPS ~
Sauté ginger and scallions in olive oil for about two minutes.
Add zucchini and carrots and continue sautéing until the mixture is cooked down and the juices from the vegetables release.
Add cumin powder, garlic powder, salt and pepper to taste. Add the rosemary, mix it well and stir for about a minute.
Add the mashed beans. Mix and cook for a few minutes.
Lastly, add the cheese and blend it in well. It should melt pretty quickly. The mixture will appear soft and nicely mashed up. Remove from heat and add the lime juice once a little cool.
Heat about 1/2 teaspoon of oil in a pan, cast iron pan or hot plate. Take one tortilla and warm it on both sides.
Place the prepared veggie mix on half side of the tortilla, spread it evenly and fold the other half on top. You can make it as thick or thin as you'd like.
Press slightly on top to bind the ingredients in. Cook on each side until tortillas is slightly browned and has a nice crisp crust.
Continue filling the rest of the tortillas the same way until the filling is done. It makes about 6 medium size quesadillas.
It's ready to serve with your favorite spicy sauce or salsa.

~ Makes 2 servings.


---
Recipe created by Preeti Gundecha from North Carolina.