Hazelnut Crunch Chocolate Lime Cream Cheesecake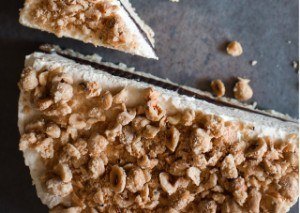 INGREDIENTS FOR TOPPING ~
1 egg white
1/2 cup granulated sugar
2 teaspoons Fine Ground Celtic Sea Salt®
1/2 teaspoon freshly ground Selina Naturally® Organic Peppercorns
1 cup blanched hazelnuts (blanch the hazelnuts by bringing 2 cups water to a boil in a deep pot, add 2 tablespoons baking soda, then add hazelnuts and bring to a simmer over medium heat, uncovered, for 4 minutes. Drain the hazelnuts through a mesh strainer over the sink, then rinse the hazelnuts under cold water, rubbing the skin off with your fingers - the skins should slip off easily. Pat dry with a paper towel)
INGREDIENTS FOR CRUST
1/2 cup granulated sugar
2 sticks salted butter, softened
2 cups all-purpose flour, sifted
Zest of 1 lime
INGREDIENTS FOR FILLING
7 ounces dark chocolate
6 tablespoons salted butter
1 16-oz sour cream
1 8-oz package cream cheese, softened
Juice of 1/2 lime
1/2 cup confectioners' sugar, sifted
1 1/2 teaspoons vanilla extract
---
STEPS ~
THE TOPPING:
Preheat oven to 300°F. In a small bowl, whisk egg white until frothy, then whisk in granulated sugar, salt, black pepper. Fold in hazelnuts. Arrange the hazelnut mixture on a lipped baking sheet and bake for 40-45 minutes or until light brown, stirring every 15 minutes. Remove from baking sheet with a spatula and transfer to a sheet of aluminum foil, otherwise the hazelnuts will stick to the baking sheet as they crisp up and cool. Set aside. Raise the oven temperature to 350°F.
THE CRUST:
Stir together sugar, butter, flour, and lime zest in a medium bowl until well incorporated. Press dough into a 10" spring form pan using your fingers - lightly flour the surface of the dough so it does not stick your fingers. Bake for 20-25 minutes or until lightly golden brown. Remove from oven and set aside to cool.
THE FILLING:
Melt the dark chocolate and butter in a small saucepan over low heat or in a double boiler, whisking often. Remove from burner and pour melted chocolate over the cooled crust. In a medium bowl using a standing or hand-mixer, sour cream, combine cream cheese, lime juice, confectioners' sugar and vanilla extract and process until smooth. Pour filling over chocolate layer, and refrigerate for 4 hours minimum. Coarsely chop hazelnuts and sprinkle

~ Makes 8-10 servings.


---
Recipe created by Carrie Hirsch from South Carolina.