Green Bone Broth Smoothie
For a super nutrient-packed beverage, try our Green Bone Broth Smoothie. You'll get a boost of healthy nutrients from the blend of fruits and vegetables, which includes spinach, banana, and apple, that we add to our bone broth ice cubes. The mixture of ingredients creates a delicious flavor that is fruity yet balanced, not to mention that the bright green hue of this beverage adds some excitement to your morning.
Hint: Keeping the peel on the apple enhances the color while adding fiber.
Course: Breakfast, Drinks, Snack
Cuisine: American
Prep Time: 5 minutes
Total Time: 5 minutes
Servings: 1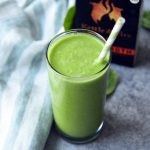 INGREDIENTS ~
---
INSTRUCTIONS ~
Place all ingredients in a food processor.
Blend on high-speed for 30-45 seconds until smooth.
Pour into a glass and enjoy!
---