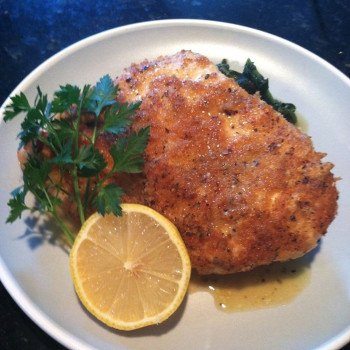 INGREDIENTS ~
2 split boneless, skinless organic chicken breasts
1 large organic egg
½ cup cassava flour
½ tablespoon water
2 slices of gluten free bread, toasted
2 teaspoon Italian herb blend (oregano, basil, thyme, garlic powder, Celtic Sea Salt®, chili flakes)
2 tablespoons Selina Naturally® coconut oil
2 tablespoon organic grass fed butter (room temperature and divided)
⅓ cup freshly squeezed lemon juice (about 2 lemons), keep lemon halves for later use
½ cup dry white wine
Fresh parsley sprigs and sliced lemon for garnish
---
STEPS ~
Preheat oven to 400 degrees F.
Line a sheet pan with parchment paper.
Place each chicken breast between 2 sheets of parchment paper and pound them to about ¼ inch thickness.
Sprinkle both sides with fine ground Celtic Sea Salt® and pepper.
Mix the cassava flour, Celtic Sea Salt® and pepper in a shallow large bowl.
In a second bowl beat the egg and water together.
In a blender blend up the toast with the Italian herb blend into crumbs then place that blend into another large shallow bowl.
Dip each chicken breast first in the flour, then the egg, and last the bread crumbs.
Heat the coconut oil in a large sauté pan over medium to medium-low heat.
Add the chicken breasts once the pan is hot. Cook each side for 2 minutes until brown.
Place them on the sheet pan and allow them to bake for 5-10 minutes while you make the sauce.

Sauce:
Wipe out the sauté pan you cooked the chicken in with a paper towel to remove crumbs so they don't add a burnt taste to your sauce.
Over medium heat, melt 1 tablespoon of the butter and then add the lemon juice, wine and reserved lemon halves, ½ teaspoon Celtic Sea Salt® and ¼ teaspoon black pepper.
Boil over high heat until reduced in half, about 2 minutes.
Off the heat, add the remaining 2 tablespoons of butter and swirl to combine.
Discard the lemon halves and serve 1 chicken breast on each plate.
Spoon on the sauce and serve with a lemon slice and parsley sprigs.

~ Makes 2 servings.
---
Recipe created by Carla Delangre.