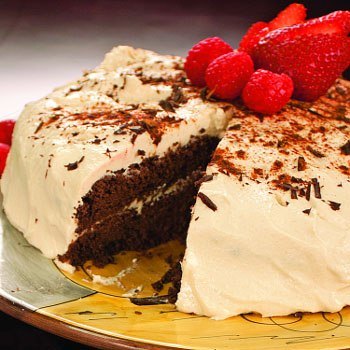 INGREDIENTS ~
Cake:
½ cup Lakanto® or Coconut Secret Raw Coconut Crystals
½ cup butter or ghee
6 oz dark, unsweetened chocolate
1 tbsp natural cocoa, unsweetened
4 eggs, separated
1 tsp vanilla
1 tsp baking powder
5 tbsp potato starch
¼ tsp xantham gum
Pinch of Celtic Sea Salt® Fine Ground salt
Frosting:
2 packages cream cheese
2 tbsp Lakanto® or Coconut Secret Raw Coconut Crystals
---
STEPS ~
Cake:
Mix all wet ingredients in a bowl with egg yolks.
Mix all dry ingredients together in a separate bowl.
Whip egg whites until stiff.
Mix wet and dry ingredients together, then fold in egg whites.
Pour into an 8 X 8 oiled pan, smooth batter, and bake at 350 degrees F for 30 minutes.
Frosting:
Dissolve the cream cheese and Lakanto (or Coconut Crystals) in 2 tbsp over heat.
Puree ingredients in a food processor until smooth.
Spread frosting on top of cake.
Sprinkle with ground cinnamon and enjoy!
This gluten free recipe is a great low glycemic choice for diabetics and people with Celiac's disease, or for anyone trying to eat more healthfully. It's moist and delicious, and is sure to impress family and friends!
---
Recipe created by Carla Delangre.