Flower of the Ocean® Salted Caramel Sauce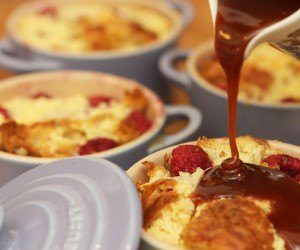 INGREDIENTS ~
2 cups granulated sugar
12 tablespoons unsalted butter, room temperature, cut into pieces
1 cup heavy cream, room temperature
1 tablespoon Flower of the Ocean®
---
STEPS ~
Add sugar to the bottom of a sauce pan to evenly coat. Heat on medium heat and stir until the sugar begins to melt.
Continue to cook the sugar until it has an amber color and reaches 350°F.
Add all the butter and whisk together.
Remove the pan from the heat and slowly whisk in the heavy cream until fully combined and smooth.
Add the salt and whisk together.
Let the sauce cool for about 10-15 minutes. Pour into a glass jar and allow to cool completely.

~ Makes 4 servings.


---
Recipe created by Jessica Rilling from Kentucky.