Fermented Celery Tonic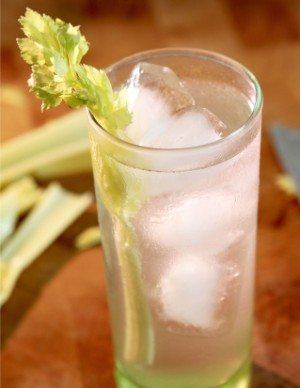 INGREDIENTS ~
1 liter spring water
1/4 teaspoon Light Grey Celtic Sea Salt®
1/2 lemon juiced
---
STEPS ~
In a 1-quart (1-liter) jar add the filtered water and the 5 teaspoons of salt. Stir until dissolved.
Add the celery to jar.
Add additional filtered water until jar is completely filled to overflowing.
Seal the jar and place in a bowl. Set in a temperature range between 65º to 75º F and out of direct sunlight.
Loosen the jar cap once or twice daily for four days.*
After four days, dilute the celery tonic with 4 more cups of filtered water to yield two quarts of tonic.
Uses: enjoy as a smoothie booster, as a sport beverage, as a hot weather electrolytic booster, or sip and gargle while recovering from illness.
*Optional, seal the jar with a fermenting kit like the Vegetable Fermenting Kit by Perfect Pickler®.

~ Makes 1 quart batch.


---
Recipe created by Bill Hettig from Florida.