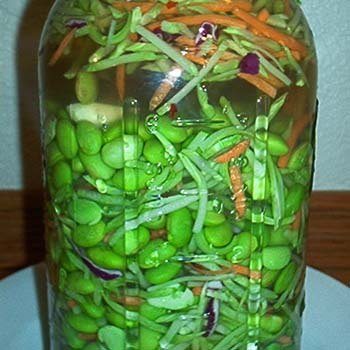 INGREDIENTS ~
1 lb. bag broccoli slaw, fresh or frozen; thawed
1 lb. bag frozen edamame soy beans, (find at health-food, supermarkets, or Asian markets)
3 - 4 cloves fresh garlic, sliced
2 - 3 scallions, sliced
½ tsp red pepper flakes, or to taste
1-½ tbsp sherry vinegar, or 2 tbs brown rice vinegar
Celtic Sea Salt® and water
---
STEPS ~
Place frozen edamames in the microwave with teaspoon of Light Grey Celtic Sea Salt®, cover and cook on high for 3 1/2 minutes.
Allow to rest covered for one minute. Uncover and cool.
Combine with the dry ingredients and add to the Perfect Pickler.
Mix salt and water per directions on pages 7 & 8 in your Perfect Pickler Instruction-Cookbook to complete the recipe.


Now you can fashion restaurant grade, gourmet pickles with the slightest of ease. Combine bags of pre-cut veggies and place in the Perfect Pickler and you are almost done! If you love the Japanese treat, edamame - slightly cooked soy beans - you will love this recipe. You can serve right out of the Perfect Pickler and onto your appetizer plate, snack plate, or as a garnish, or salad topper.


---