Donna's Raw Chocolate Mint Brownies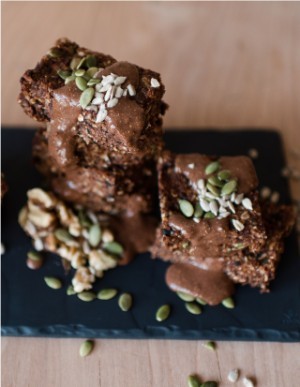 INGREDIENTS ~
2 cups rolled oats
1 cup dates pitted
1/2 cup walnuts
1/4 cup Selina Naturally® Organic Raw Golden Flax Seeds, ground
1/2 cup fresh mint leaves
3 tablespoons raw cacao powder
1/4 cup chocolate chips
1/4 cup raw sunflower seeds
1/4 cup raw pumpkin seeds
1/3 cup Selina Naturally® Organic Almond Butter
1 pinch Fine Ground Celtic Sea Salt®
INGREDIENTS FOR CHOCOLATE SAUCE
2 tablespoons raw cacao powder
1 cup almond milk
1 tablespoon maple syrup
2 tablespoons Selina Naturally® Pesticide-Free Chia Seeds
1 pinch of Fine Ground Celtic Sea Salt®
---
STEPS ~
Line a 9x9 inch pan with parchment paper.
Place rolled oats in small bowl and cover with spring water. Let sit for 30 minutes, then drain and set aside.
Soak dates in hot water for 30 minutes.
In a food processor add dates, walnuts, and ground Selina Naturally® Organic Raw Golden Flax Seeds until chopped up and mixed together. Then add salt, mint leaves, and cacao powder and pulse to combine.
Place the date mixture in a large mixing bowl then add the oats, sunflower seeds, pumpkin seeds and almond butter and mix the ingredients with your hands until fully combined.
When fully combined place the dough into the prepared lined pan and press the dough out to flatten evenly.
Chill in the refrigerator for a few hours before cutting. Garnish with ice cream, chocolate chips and chocolate sauce.
Instructions for chocolate sauce: cover Selina Naturally® Pesticide-Free Chia Seeds in a bowl with spring water and soak for 20 minutes then blend all the other ingredients in a blender until smooth. Add more maple syrup to taste if needed.

~ Makes 4 servings.


---
Recipe created by Donna Haybarger from Florida.