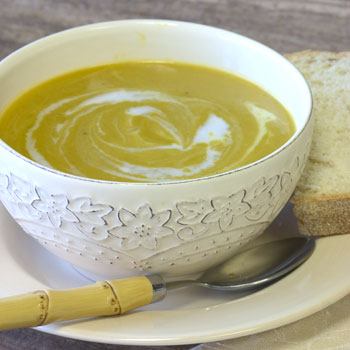 INGREDIENTS ~
2 tbs olive oil, or try Vigoa Cuisine - Garlic & Herb Splash Olive Oil
2 medium yellow onions, chopped
3 garlic cloves, chopped (garlic lovers, feel free to use more!)
1 tbs ginger, peeled and chopped
1 tbs curry powder
¼ tsp cayenne or as desired for spice (optional)
1 ½ tsp Makai Pure® Deep Sea Salt
4 cups filtered water
1 large butternut squash, peeled, seeded, and chopped
1 ¾ cups unsweetened coconut milk
2 tbs fresh squeezed lemon juice
---
STEPS ~
Heat olive oil in a large stockpot over medium heat.
Add onions, garlic, and ginger. Sautee until soft and fragrant (5-10 minutes).
Add curry powder, cayenne, and salt, stirring until mixture is completely coated.
Add water and bring to a boil.
Mix in squash, lower heat, and simmer uncovered, for 30 minutes.
Stir in coconut milk and lemon juice (I like to reserve 1 tbs coconut milk for garnish).
Working in batches, puree soup in a blender or food processor until desired consistency in reached.
Return to pot and reheat if necessary.
Spoon soup into bowls.
Add a little of the reserved coconut milk to each bowl using a fork to create fun and festive designs.
---
Recipe created by Dianna Williams.