Colorful Roasted Winter Veggies with Pomegranate Sauce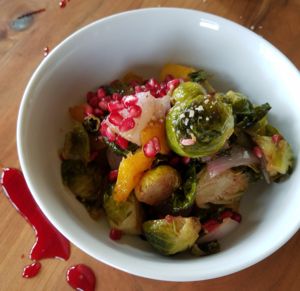 INGREDIENTS ~
3-4 cups butternut squash, cubed and peeled
3-4 cups brussel sprouts, cut in half
1 medium sized red onion, peeled and cut in 2 inch pieces
1-2 teaspoons chili powder
1-2 teaspoons Fossil River Balsamic Vinegar Flake Salt
1-2 tablespoons coconut oil
¼-½ cup fresh pomegranate seed
½ cup pomegranate juice
2 tablespoons coconut nectar
---
STEPS ~
Preheat oven to 400 degrees and be sure the racks are in the middle of the oven.
On a large baking sheet pan spread out the brussel sprouts, butternut squash, and onion.
Coat everything in coconut oil, sprinkle with chili powder and Fossil River Balsamic Vinegar Flake Salt.
Roast in the oven uncovered for 20 minutes until the squash is soft, but not mushy.
Remove from the oven and allow to cool.
In a small sauce pan heat the pomegranate juice and coconut nectar and allow to simmer and reduce until slightly thicker consistency.
Allow the juice to cool a bit then mix the reduced juice and roasted vegetables in a large bowl.
Mix in the fresh pomegranate seeds once everything is room temperature.
Serve this colorful dish as an appetizer or side to your holiday feast!
The Fossil River Balsamic Vinegar salt is a unique and delicious way to capture the tart tang of balsamic vinegar with the delicate salty flakes. It's delicate enough to use as a finishing salt, however in this dish sprinkling it over the vegetables before roasting was a wonderful way to allow the essence of the balsamic taste without the moisture of using a vinegar, which would cause the vegetables and squash to be too soft and soggy. The large flakes gently melt over the ingredients so with each bit you get a nice burst of flavor.
Prep Time 15 minutes
Cook Time 20 minutes
Makes 6 servings.
---
Recipe created by Carla Delangre