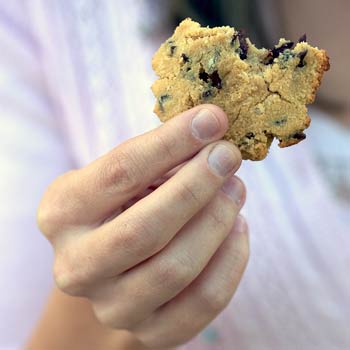 INGREDIENTS ~
½ cup ghee* or butter, melted
4 eggs
½ tsp vanilla
1 ½ cups grated or flaked coconut
¾ cup semisweet chocolate chips
1 cup sifted coconut flour**
---
STEPS ~
Mix together butter/ghee, sugar/Xylitol/Lakanto, eggs, vanilla and Celtic Sea Salt®.
Stir in coconut, chocolate chips, and coconut flour.
Drop batter in spoon-size amounts 1 inch apart on a greased cookie sheet.
Bake at 375 degrees for 14-15 minutes.
Cool slightly and remove from cookie sheet.

For Reduced Sugar Coconut Chocolate Chip Cookies:
Make Coconut Chocolate Chip Cookies as directed but reduce sugar to ½ cup and add ¼ tsp powdered or liquid stevia.


*Ghee is wonderful to bake with but is semi-solid at room temperature.

**Coconut flour is dense, and does not move. Adjust liquid for recipes to suit taste and altitude.

~ Makes about 2 dozen cookies.


---
Recipe created by Carla Delangre.