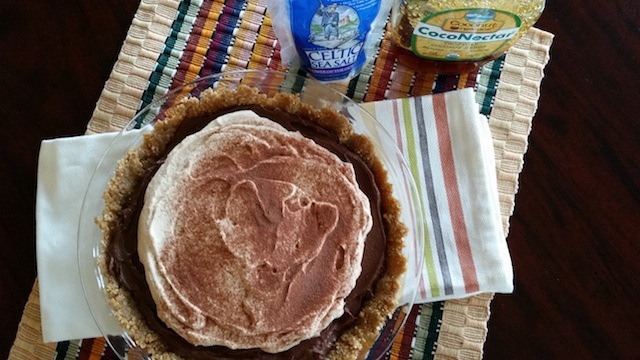 Chocolate Avocado Mousse Pie
Serves 8
Prep Time 30 minutes
__________________________
Crust
1 cup walnuts or pecans
½ cup gluten free graham crackers
½ cup Coconut Organics® Coconut Nectar
¼ tsp cinnamon
1 pinch Celtic Sea Salt® Flower of the Ocean®
__________________________________
Peanut Layer
1 cup creamy peanut butter
½ cup whipped cream
__________________________________
Chocolate Layer
2 Soft Avocados
½ cup raw cacao powder
1 cup Coconut Organics® Coconut Nectar
1 pinch Celtic Sea Salt® Flower of the Ocean®
______________________________________
Whipped Cream (optional)
2 cups heavy whipping cream
1 cup coconut sugar (blended)
1 tsp vanilla
___________________________________________________________________________________________________________
In a large food processor add the nuts, graham crackers, coconut nectar, cinnamon and salt. Pulse and blend until fully combined and the mixture becomes a tiny pebble texture. Remove the crust dough and spread it thinly in a pie dish. Rinse the food processor and set aside for use again.
Next start is the whipped cream. In a large bowl beat the heavy whipping cream and vanilla on high for a few minutes until it stiffens into a cream. In a vitamix blend on high 1 ½ cups of coconut sugar to make a powdered version. Blending it will cause it to go down to 1 cup. Once the cream has stiffed begin to slowly add the powdered coconut sugar in small batches at a time and whip in on a slower setting until all the sugar is combined.
Next put the peanut butter into a medium sized bowl and fold in ½ cup of the whipped cream until fully combined.
Next add the avocados, raw cacao powder, coconut nectar, and salt into the food processor and blend until fully combined and completely smooth.
Once all the layers are prepared, now you can assemble the pie. Add the peanut butter mixture on top of the crust and spread out so it forms about a ½ inch thick layer. Next add the chocolate layer so its about 1 inch thick. Then top with the whipped cream and spread across the pie. Garnish with some raw cacao powder sprinkled on top. Chill for at least 1 hour in the refrigerator before serving so the layers will firm up to make it easier to cut.
Enjoy cold!
____________________
Recipe by Melissa Soares