Celtic Sea Salt Mexican Chili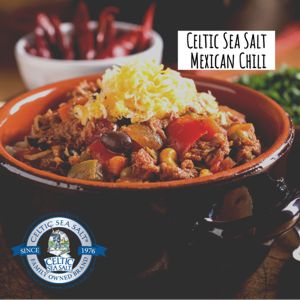 INGREDIENTS ~
1-2 pounds ground bison
1 onion diced
1 cup bacon chopped or 1 tablespoon coconut or olive oil
3 large garlic cloves chopped
1 green bell pepper seeded and diced
1 red bell pepper seeded and diced
8 ounces diced jarred tomatoes
8 ounce tomato sauce
1 cup dark beer, gluten free optional
2-3 cups beef broth
Black pepper to taste
Celtic Kosher Sea Salt® to taste
3-4 teaspoons Celtic Sea Salt® Mexican Seasoning
1 piece of dried Kombu
2 jars small red beans drained and rinsed
2 jars cannellini beans drained and rinsed
---
STEPS ~
Heat a large pot on medium to high heat.
Once heated add the chopped bacon or oil.
Sauté the bacon for several minutes until browned but not burned.
Remove the bacon but leave the fat and add the chopped onion.
Sauté with a sprinkle of Kosher Celtic Sea Salt®.
After a minute add the ground bison and break up into pieces.
Brown the meat and add half the Mexican seasoning.
Once the meat is almost fully cooked, add the chopped bell pepper and sauté for another few minutes.
Add garlic, tomatoes, tomato sauce, kombu (for iodine and enhancement of flavor) and allow to simmer for 5 minutes.
Add the beer, broth, all beans and rest of Mexican seasoning.
Simmer for 30 minutes.
Enjoy hot with a dollop of sour cream and fresh cilantro.
---
GARNISH ~
Fresh cilantro and sour cream
---
Prep Time 20 minutes
Cook Time 45 minutes
Makes 6 servings.
---
Recipe created by Carla Delangre