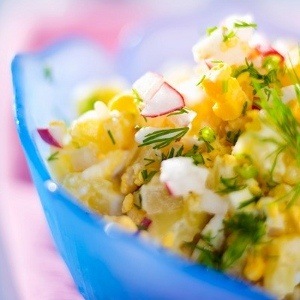 INGREDIENTS ~
8 Free Range hard boiled eggs
¼ cup coconut oil mayonnaise
1 tsp paprika
1 tsp fresh cracked black pepper
1 tsp chopped fresh dill weed
2 tbsp Dijon style mustard
½ red onion minced
optional ½ tsp cayenne pepper, for a little kick
---
STEPS ~
Bring a large sauce pan of water to a boil, lower heat to low and gently add eggs one at a time with a ladle.
Boil gently for 10-12 minutes.
Once eggs are cooked scoop out the eggs and place them into a large bowl of ice water.
Peel eggs under cold water.
Chop boiled eggs and set in a large mixing bowl to the side.
Mix in a medium sized bowl the mayonnaise, paprika, Celery Celtic Sea Salt®, pepper, dill, mustard, onion and cayenne.
Stir the dressing mixture in with the eggs.
Serve cold on bread or with corn chips.

~ Makes 4 servings.